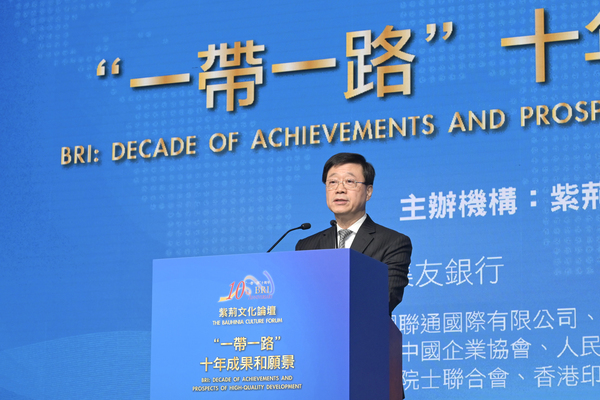 On this day, thanks to our organiser, the Bauhinia Culture Group, I'm pleased to speak to you on the occasion of the Belt & Road Initiative's 10th anniversary.
Since President Xi Jinping announced the vision of the Belt & Road in 2013, this all-embracing global initiative has inspired regional and international collaboration in policy, infrastructure, trade, finance, people-to-people bonds and much more.
Today, more than 150 countries and over 30 international organisations have signed Belt & Road agreements with our country. Together, they account for about 40% of global GDP (gross domestic product) and 45% of the world's merchandise trade.
The Belt & Road has now become a big, important impetus in forging ties among countries, regions and peoples. It has enabled co-operation with numerous regional and country-based development strategies, including Indonesia's Global Maritime Fulcrum, Saudi Vision 2030, and the African Union Agenda 2063, to name but a few.
Over the last decade, trade has expanded tremendously along the Belt & Road. The Mainland's trade in goods with Belt & Road-related countries has doubled, from just over US$1 trillion in 2013 to more than US$2 trillion in 2022, with an enviable average annual growth rate of 8%. By the end of 2022, Chinese enterprises had invested more than US$57 billion in the economic and trade co-operation zones of Belt & Road-related countries.
With the COVID-19 pandemic easing and the world largely back to normal, the future of the Belt & Road is all the more promising.
Belt-Road's pivot
And that, ladies and gentlemen, is good news for Hong Kong, a functional platform for the Belt & Road Initiative. With our many compelling advantages under the "one country, two systems" principle, we are the Belt & Road's pivotal gateway. We make things happen.
At last year's Belt & Road Summit held here in Hong Kong, the then Vice Premier Han Zheng reaffirmed Hong Kong's role as a participant, contributor and beneficiary of the Belt & Road.
As a leading international financial centre and the world's largest offshore renminbi business hub, Hong Kong is committed to supporting the financing needs of Belt & Road companies and their wide-ranging projects and investments.
Beyond capital, Hong Kong is blessed with world-class professional services - from feasibility studies, project management and architectural and engineering design, to risk management, insurance, legal and arbitration services and more. Everything, in short, the Belt & Road needs to flourish.
And, of course, as the business bridge between the Mainland and the rest of the world, Hong Kong is a natural base from which to expand into thriving markets throughout the Asian region and beyond.
To seize the vast opportunities ahead, the Hong Kong Special Administrative Region Government is busy renewing, and building, our links with Belt & Road countries and regions.
I am determined to pursue rewarding collaboration, between Hong Kong and economies along the Belt & Road, in trade and investment, innovation and technology, infrastructure development and a whole lot more.
In February, I led a high-level business delegation to Saudi Arabia and the United Arab Emirates (UAE). The Middle East region is important to the Belt & Road and its future. And I am confident it will become increasingly important to Hong Kong and our future.
During our visit, a total of 13 MOUs (memoranda of understanding) and co-operation letters of intent were signed between Hong Kong and Middle East organisations. We also learnt the encouraging news that the Dubai International Chamber would open a new representative office in Hong Kong. Different Hong Kong companies that accompanied me on the visit are now closing in on business deals in the Middle East.
Promising start
I would say that it was a great start. And we haven't stopped since then, not for a moment. A number of potential investors from the Middle East have visited Hong Kong since our February trip, and I personally met a lot of them. They include key decision makers from family offices. Many of them have shown keen interest in investing in Hong Kong during our meetings.
Just over a week ago, the Hong Kong Monetary Authority, led by its Chief Executive Eddie Yue, and the Central Bank of the UAE, met in Abu Dhabi. The two central banks came away agreeing to boost co-operation in three significant areas: financial infrastructure, financial market connectivity, and virtual asset regulations and development.
They also held a seminar focused on key opportunities between Hong Kong and the UAE, and a panel discussion attended by some 80 senior representatives from more than 50 UAE financial institutions and corporations. The heads of major Hong Kong banks also took part.
I am pleased to note, as well, that different Hong Kong business delegations have visited the Middle East to boost our economic co-operation, and explored opportunities with some of the first countries to join the Belt & Road Initiative.
Ladies and gentlemen, when I spoke to you this time last year, I promised that my governing team would be results-driven, with a strong team spirit of collaboration and unity.
A year on, we remain committed to realising our goal of making a decidedly positive difference for the economy, and the people, of Hong Kong.
My team and I look forward to promoting Hong Kong to other Belt & Road countries and regions. They include our close trading partners, the 10 member states of ASEAN (Association of Southeast Asian Nations). They also include countries in Central Asia, Eastern Europe, Africa and all the other economies looking to do business with Hong Kong, our country and the flourishing Asian region.
Summit ahead
For those of you looking for the right partners to capitalise on Belt & Road opportunities, join us here in Hong Kong at the eighth Belt & Road Summit, on September 13 and 14.
Jointly organised by the Hong Kong SAR Government and the Hong Kong Trade Development Council, the Belt & Road Summit is renowned as one of the largest and most important Belt & Road business and investment platforms for enterprises from Hong Kong, the Mainland and overseas.
The past seven editions of the summit have attracted over 3,800 business-matching sessions, and attracted around 33,000 participants and sign-ups from over 80 countries and regions.
Connectivity is at the heart of the Belt & Road Initiative. With the unwavering support of our country and the manifold advantages we can offer, Hong Kong will continue to do what Hong Kong does best: connecting countries and economies, companies and people everywhere, to drive the high-quality development of our country and the world.
Chief Executive John Lee gave these remarks at the Bauhinia Culture Forum on June 7.
---
PREVIOUS
NEXT